This is our chicken coop here on the farm it was made by converting an old horse shed into a place for our chickens to rest. Our chickens are free to roam the back 2 acres of our lot during the day but at night they like to cozy up on their roosting bars and nesting boxes to keep away from danger. We were lucky enough to have a place to keep our flock when we moved in but I know other people out there wish to have chickens and don't have a place to keep them. While looking on
Etsy
I found some lovely chicken coops and chicken coop plans for such people and wanted to share them.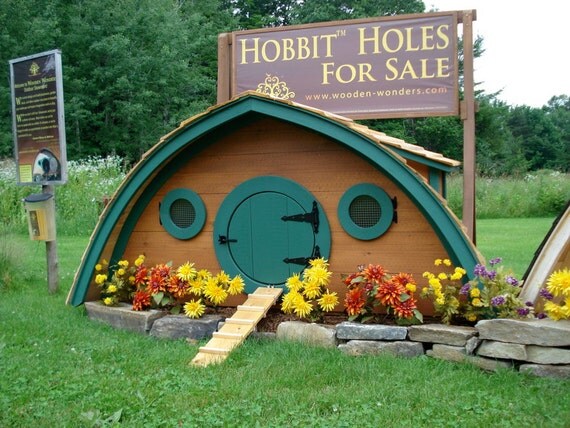 Isn't this an interesting design? I love the colors and the shape. This is a pre-built Hobbit Hole from the shop
Wooden Wonders
that can be used either as a chicken coop or safe place for any of your outdoor pets. I think its modern look would win the approval of any neighbor. I found this design on Etsy but if you look further on their
website
you can find even more fun designs for coops and playhouses for your kiddos.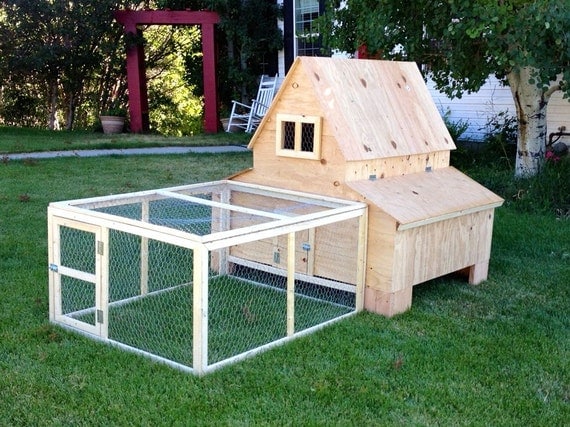 Here is a cute chicken coop including a run from the Etsy shop
Domestic Renewal
. This charming little coop houses up to 6 chickens, and would be great for the city dwelling chicken because the run is enclosed. A closed run would allow for some free ranging time but still keep the birds away from predators and they can safely tuck themselves in at night.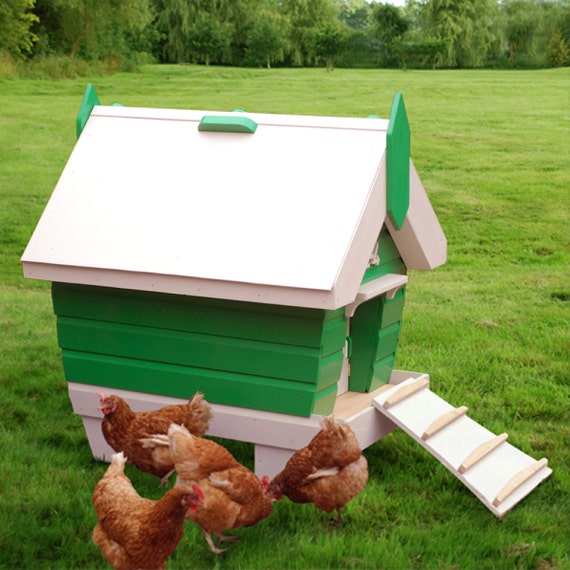 If you have a smaller flock of birds like 2-5 here are plans for a very cute little coop you can build yourself from
Little Hutchys
. At the very reasonable price of just over $10 I would say these plans are worth checking out. The coop includes a nesting box inside and the roof opens allowing the chicken care takers to peek inside. I think this little coop would be just darling in a backyard.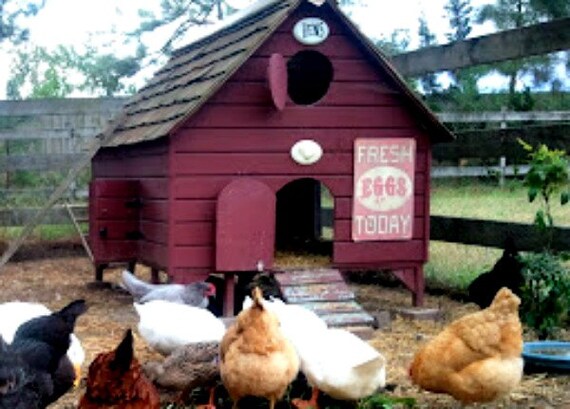 If you are looking for plans to build your own coop and have 6 or more chickens I found great ones here at
Fresh Eggs Daily
. The plans are reasonably priced and will ship via PDF within 24 hours. They also include that the cost of building this delightful coop is only about $250 and can be built over a weekend. I think that would make a fun project for the entire family to get involved in. Their Virginia farm also has a very informative
blog
I follow about chickens and other homesteading advice that is defiantly worth checking out!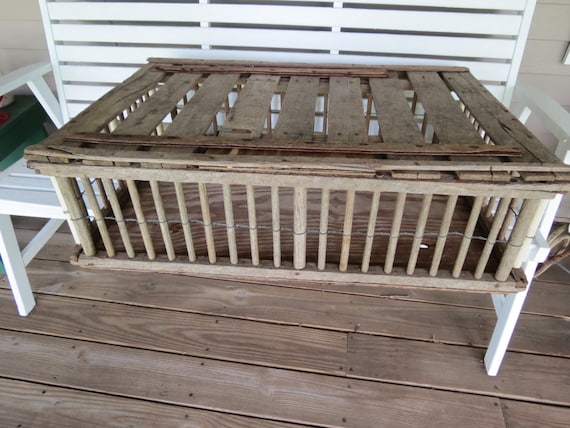 I know not everyone is comfortable with having a backyard full of chickens, so for those that would like a part the lifestyle without all the work I found this antique Chicken coop at
The Virginia Rose
along with other rustic and vintage goodies. Although I wouldn't keep my chickens in here I do think this piece would make great body for a piece of furniture or home decor piece.
I hope you like these designs! If you have other plans or designs to share please leave us a comment with a link.